Princess Heights Suite
Luxurious Ocean View Double Suite at Dawn Beach's Princess Heights, St-Maarten.
Princess Heights Condominium Hotel Oyster Pond Road #156, St. Maarten, Netherlands Antilles – Tel. : 514-827-8160 / Map
Property description
Located in the prestigious Princess Heights Resort, this modern and luxurious double suite offers all the comfort needed for the perfect vacation. Both suites have a private terrace with a stunning ocean view. Ideally located in the hillsides of Dawn Beach, it is within a short 10 minute walk to a gorgeous beach, casino, spa and world class restaurants.
The suites (A and B on layout photo) are fully independent with a lockable door separating them. They can be rented together or separately. The master suite (A) has a fully equipped top of the line kitchen, the studio suite (B) has a very capable kitchenette. Pricing for the studio suite available on demand.
There is complimentary wireless, an in-room safe and a direct dial phone. Fresh linens including beach and bath towels await your arrival! Housekeeping is available upon request.
Nearby Sports & Adventure Activities
Cycling - Fishing - Golf - Jet Skiing - Parasailing - Sailing - Snorkeling/Diving - Swimming - Tennis - Water Skiing - Wind-Surfing
For prices and booking go to http://www.vrbo.com/290251 or call 514-827-8160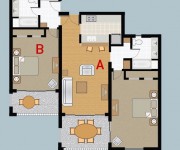 Condo on floor 7
Double suite (2 Bedrooms, 2 Bathrooms), 2 king size beds, sleeps 4. Or single suite (one bedroom, one bathroom).
Linens Provided.
Beach View / Ocean View / Water View.
Air Conditioning.
Elevator.
Full gym.
Kitchen
Cooking Utensils – Dishwasher – Microwave – Refrigerator
Guests Provide Their Own Meals
Deck / Patio with furniture
Communal Pool
DVD Player
Internet
Broadband Access
Satellite / Cable: Stereo
Plasma TVs in each room and one in the living room
Stereo
Telephone
Covered Parking: - Outdoor, reserved parking