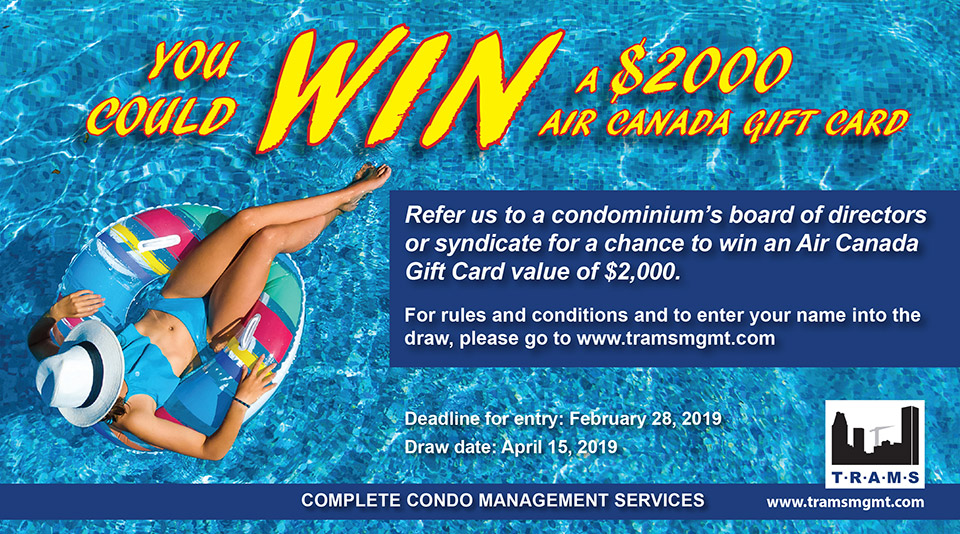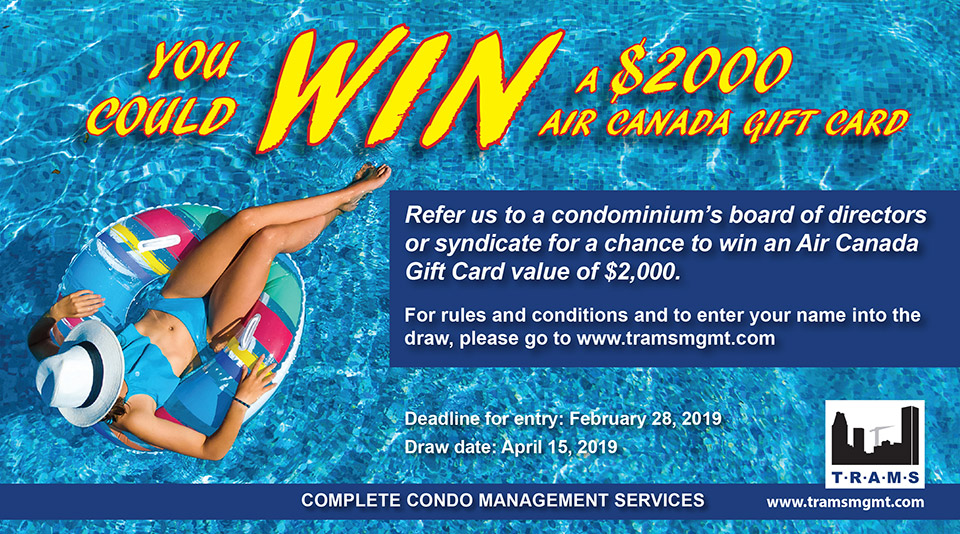 How to participate?
Its easy as ABC. If you know a condominium board of directors or a syndicate looking for or in need of property management services, refer TRAMS property management to them. Once you refer us to them, please send us an email at amer@tramsmgmt.com with details (name of the person(s) you referred us to, location of the building(s), and number of total units).
We will take it from there. We will explain to them our services and the advantages they get when signing a property management contract with us.
If they sign a property management contract with us, you will be eligible to be entered in our draw for a chance to win an Air Canada Gift Card value of $2,000!
Dates to remember:
Contest starts ends on February 28, 2019.
Draw will be executed at our head office in Montreal, Quebec on April 15, 2019 (participants are welcome to attend).
Rules & conditions:
By entering the contest, all entrants agree to be bound by the rules and regulations of the contest.
Must be 18 years and older.
Minimum of 5 participants in the draw.
Syndicate signing is mandatory to enter the contest (and the referred property should be within Greater Montreal / Laval).
Submission of referrals should be sent to the following:
Email: amer@tramsmgmt.com
By mail or in person at our office:
5151 rue de la Savane, suite 400
Montréal, Qc, H4P 1V1
A participant can participate multiple times if he/she refers multiple syndicates (and signing occurs).
Contest follows the rules & regulations of the Regie des alcools, des courses et des jeux http://legisquebec.gouv.qc.ca/en/ShowDoc/cr/L-6,%20r.%206
Chances of winning the prizes will be dependent upon the number of eligible entries received during the contest period (1 gift card for 5-9 participants, 2 gift cards for 10-14 participants, etc..).
Winners will be notified through an official email / mail within 24 hours of the draw and will receive their gift card in the same method. (Limit of one email address per person per entry).
If there is no response from the winner(s), TRAMS reserve the right to re-distribute the prize to the next selected entrant(s).
Terms & conditions of Air Canada's Gift Card applies in addition https://www.aircanada.com/content/aircanada/ca/en/aco/home/book/payment-methods/air-canada-gift-cards.html